Hope you guys enjoyed the weekend? Well we are back again with the reviewing some of the useful MIUI features for all you guys, This time we would be covering the "Photo Editing feature' which was introduced in the Global Beta ROM 7.2.16 This feature was added because of all you dear Mi fans out there and removing the need of downloading an additional app for editing the images!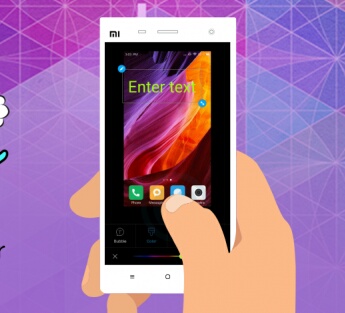 The Photo Editing feature is integrated within the MIUI Gallery app, I hope some of you have already tested it but maybe some not so advanced users even checked it so this is for all those who want to check out this new feature and how it works. Let's not waste any more time and start with the review.


How to Use the Photo Editing Feature?
Open MIUI Gallery App – Open the image you want to edit – Edit – Text, there you can start editing the image. There are 4 options to edit Text Bubble, Color, Font, Opacity. Let's see what each of them does:

1. Bubble:
Edits the Chat bubble for the Text, you can choose square chat bubble or round chat bubble for showing the text!



2. Color:
It allows you to change the text colors to the color of your choice with variable shade selection!



3. Font:
Choose from the present fonts, that suits the mood!


4. Opacity:
Set opacity to make the chat bubble stand out or sink in!


Text Size, Placement & Orientation

Along with main four options, basic text handling options are there too right on the editing screen. No matter which four editing screen you are on you can call them which helps you with changing the size of the font, moving or editing the text, along with one specific bubble related function.

Editing text:
Missed writing something in the text? or Made a typo? Not to worry, the text can be edited from anywhere just by tapping the pencil-shaped icon around the textbox.!



Placement, Size & Rotation:
The Drag to move place has its benefits to placing text on pictures appropriately! Is the text too long? Worry not! Just use the resize button to change the size of the box and Voila! everything just fits perfectly! Also, you can just hold it and rotate the text to fit into space in the image as well! Cool!


Bubble Point Orientation:
A must have feature when working with chat bubbles! Use this option to make the bubble point on the left of right and with this you can make both the people speak!

Hope you enjoy this week update & Many more New features to come
Till then stay tuned to tips4mi for latest updates
Also Find us on YouTube