Hello, friend's I hope you enjoying Xiaomi services. Today we discuss about contact backup. Contacts is too important for us because of many reasons. Because everyone wants alternate, Suppose one day our phone is not working or stolen by us then where we go. If we have a backup then we face less trouble. So today in this article we learn about how to take Contact backup or import export contacts from phone to sim and cloud storage.
and also learn import your contacts from SIM to phone or Phone to sim.
All we know Contact Number's is most important things in our Mobile phone, through the contacts we communicate to our relatives ,friends or any others peoples, without contact number we can't communicate to other peoples. we are human so we can't learn more contact number's in our memory.
so we save our contact in mobile phone.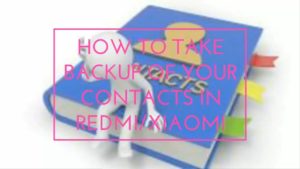 ---
Steps To Make Backup Of Contact's . 
1- How To Export Contacts? 
First of all open Your mobile Setting.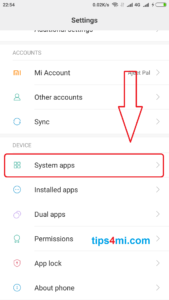 Now Open System Apps as  Given In Image.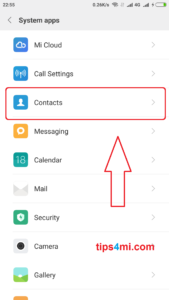 Click On Contacts In System Apps.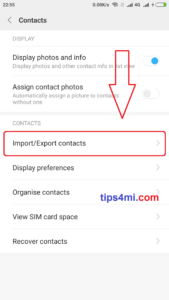 After than Open Import/Export Contacts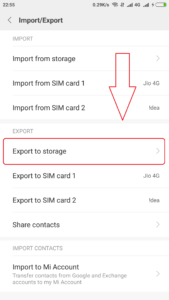 In Import/Export section you can see many types of options , like Import to Storage or SIM and Export to Storage or SIM.
We want to create backup of contacts so simply, click on Export to storage As given in Image.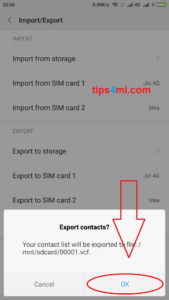 Click Ok on Export contacts?,  and A .vcf file Exported in your Phone Internal storage with the name of "00001.vcf"
What is a VCF file?
VCF is an acronym for Virtual Contact File. VCF files, also commonly referred to as vCards, are the standard file format that is used to store contact information for individuals and businesses in a digital file format.
A VCF file normally includes the contact name, address, email address, phone number and other contact information for the person creating the file. The VCF file format also allows for the support of images and other media content.
VCF files are often used to transfer contact information between address books and can also be attached to email messages. VCF files can be used on Windows and Mac operating systems and are frequently used on iPhones to load contacts directly into the user's mobile device.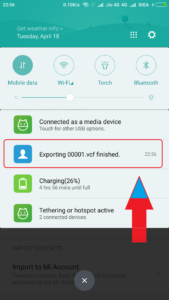 As you can see in Notification bar.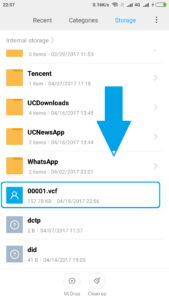 Just confirm and find .vcf file is successfully exported in internal storage or not.
If you want save .vcf file on offline than you can send or copy any other secondary storage like memory card or any other phone.


---
2- How To Import Contacts?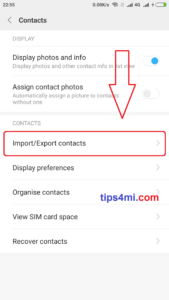 Now Again open Import/Export option.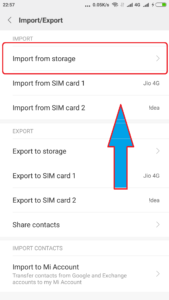 Select Import from storage as given in screen-shot.
ep 
In the next step you just select account in which you want to import your contacts.
If you want Import your contacts in Google than select Google.
And if you want to MI Account than simply you can select MI Account.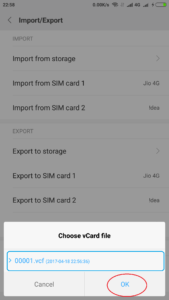 After that your mobile phone take just few seconds to search automatically

.vcf

file from internal storage.
When system has successfully search vCard file than click on OK button as give in image.
I am imported my contacts on MI account, now you can see 314 people in

Mi account.
So these are some simple steps to Import/Export your contacts form phone storage  to cloud storage, I hope you understand all the steps without any confusion and this tutorial very help for you.
Also Watch this video
#Some related search tags.
how to save contacts in google account
how to save congtacts in mi account
how to import contacts from sim in redmi note 3
how to import contacts in redmi 2
how to export contacts in redmi note 3
how to export contacts from xiaomi
how to import contacts in redmi note 3
how to import contacts from sim in mi4i
how to import contacts in redmi 3s
how to import contacts from sim to redmi 3s
As you know Xiaomi Mobiles work on MIUI os. So this backup functionality work for all Xiaomi devices. No matter which phone you are using like Redmi 1S, Redmi 2 / Prime, Redmi Note 4G, Redmi Note 3, Redmi 3, Redmi 3S /Prime, Redmi Pro, Mi Pad, Mi Pad 2, Mi 2, Mi 3, Mi 5 etc.
If these steps doesn't fix the problem then you may really need to go to service center. Good luck!
Don't Forget to subscribe our Blog via Email, Like and share with Others if you have any issue or query then put your comments here.
if you want more tips& trick Related with redmi/Xiaomi  and other android phone related videos just goto our
Thanks friends keep visiting for more tips and trick related with Xiaomi/Redmi phones.