Hello ,
Tips4MI

Reader's

Today I am back with very interesting knowledge of Smartphone charging technology. in this article we will discuss about Qualcomm Quick charging. And you will know about the history of smartphone charging. So let's start, I hope you will love this article.
Quick Charge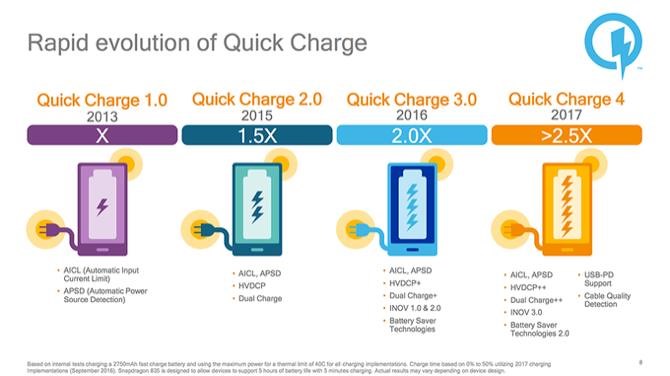 Quick Charge is a technology found in Qualcomm Snapdragon systems-on-chip, used in devices such as smartphones and computers, for managing power delivered over USB. It offers more power and thus charges batteries in devices faster than standard USB rates allow.
It is a proprietary technology which allows for the charging of battery powered devices, primarily mobile phones, at levels above and beyond the typical 5 volts and 2 amps which most USB standards allow for. Numerous other companies have their own competing technologies; these include Mediatek's Pump Express, OnePlus's Dash Charge and Motorola's TurboPower
It's Versions
Technology
Voltage
Max Current
Max power
Date release
Notes
Quick Charge 1.0
5 V
2 A
10 W
2013
Snapdragon 600
Quick Charge 2.0
5 V, 9 V, 12 V
3 A, 2 A, or 1.67 A
18 W
2015
Snapdragon 200, 208, 210, 212, 400, 410, 412, 415, 425, 610, 615, 616, 800, 801, 805, 808, 810
Quick Charge 3.0
3.6 V to 20 V, dynamic with 200 mV increments
2.5 A or 4.6 A
18 W
2016
Snapdragon 427, 430, 435, 617, 620, 625, 626, 650, 652, 653, 820, 821
Quick Charge 4
?
18 W or 28 W
2017
Snapdragon 630,636,660, 835,845
Quick Charge 4+
5 V, 9 V via USB-PD3 V to 5.9 V or 3 V to 11 V, 20mV increments via USB-PD 3.0 PPS (Programmable Power Supply)

3.6 V to 20 V, 200 mV increments via QC charger

3 A via USB-PD2.5 A or 4.6 A via QC
27 W via USB-PD
2017
Snapdragon 845
Quick C

harge 1.0
Charging
Qualcomm® Quick Charge™ Support
Qualcomm® Quick Charge™ 1.0 technology
Operating Temperature Range
Minimum Temperature
Quick Charge 2.0
Quick Charge 2.0 is Qualcomm's fast charging technology that allows a device to charge the battery faster without frying its innards. It's designed to speed up the charging process, so you spend less time charging your device at the wall. Quick Charge is a proprietary Qualcomm technology, integrated into Snapdragon chipsets.
According to Qualcomm, in a 30-minute test a traditional charger (5V, 1A) managed to power a battery up 12 per cent, while the first generation of Quick Charge (5V 2A) managed 30 per cent, and Quick Charge 2.0 (9V, 2A) filled it to 60 per cent in 30 mins.
That's a significant difference in charging speed.
Quick Charge 2.0 certified adapters come in two classes: A and B. Class A is capable of delivering 5V, 9V and 12V. Class B is capable of delivering 5V, 9V, 12V and 20V. Most adapters with Quick Charge 2.0 are now Class A.
There are two sides to this fast charging arrangement. In order to benefit from Quick Charge 2.0 a device needs to be coupled with a compatible Quick Charge 2.0 wall charger.
Quick Charge 3.0
Qualcomm boasts a fourfold increase in charging times over conventional chargers with Quick Charge 3.0, up from the 40 percent speed increase offered by its first generation technology. However, one of the interesting things to note is that Qualcomm isn't touting massive increases in charging times over version 2.0, instead the company is focusing on improved efficiency this time around.
Programmable switch-mode Li-Ion battery chargers and output power controller with >90% efficiency for 2.5A or 4.6A battery charging, USB OTG, AICL, APSD and autonomous Qualcomm® Quick Charge™ 3.0 technology capability. SMB1350 and SMB1351 are programmable single-cell lithium-ion/lithium-polymer battery charger ICs for portable applications, designed to provide simple, efficient battery charging of high-capacity batteries at speeds vastly superior to standard USB with standard cables and connectors.
Charging
Qualcomm® Quick Charge™ Support
Qualcomm® Quick Charge™ 3.0 technology
Operating Temperature Range
Select Devices with Quick Charge 3.0 Technology
• Asus ZenFone 3 Deluxe
• Baofeng Matrix (VR)
• BlackBerry KEYone
• BQ Aquaris U2
• BQ Aquaris U2 lite
• BQ Aquaris V
• BQ Aquaris V Plus
• BQ Aquarius X
• BQ Aquarius X Pro
• Coolpad Cool Changer S1
• DJI FPV goggles (VR)
• General Mobile GM5+
• GeniusIDEA Follow (drone)
• Gionee M2017
• Gionee M6S Plus
• Haier Leisure L7
• HP Elite x3
• HTC 10
• HTC One A9
• HTC U Ultra
• HTC U11
• HTC U11 life
• HTC U11 Plus
• LeEco Le MAX 2
• LeEco (LeTV) Le MAX Pro
• LeEco Le Pro 3
• Lenovo ZUK Z2 Pro
• LG G5
• LG G6
• LG isai Beat LGV34
• LG V20
• LG V30
• Nokia 8
• NuAns NEO
• Nubia Z11
• Nubia Z11 Max
• Nubia Z11miniS
• Philips EverPlay (portable speaker)
• Qiku N45
• Qiku N5S
• Qiku N6
• Qiku N6 Pro
• Qiku Q5
• Qiku Q5 Plus
• Sharp Aquos R
• Sharp Aquos R Compact
• Smartisan M1
• Smartisan M1L
• Smartisan Nuts Pro
• Smartisan Nuts Pro 2
• Smartisan U1 Pro
• Sony Xperia XZ
• Sony Xperia XZ Premium
• Sony Xperia XZ1
• Sony Xperia XZ1 Compact
• Sugar F7
• TCL Idol 4-Pro
• TCL Idol4S
• Vestel Venus Z10
• Vodafone Smart platinum 7
• Wileyfox Swift 2
• Wileyfox Swift 2 Plus
• Wileyfox Swift 2 X
• Xiaomi Mi 5
• Xiaomi Mi 5s
• Xiaomi Mi 5s Plus
• Xiaomi Mi 6
• Xiaomi Mi Max
Quick Charge 4.0
Qualcomm introduces Quick Charge 4.0 with 20% faster charging, USB-C support
Today Qualcomm Technologies introduced Qualcomm Quick Charge 4, our latest and greatest fast charging technology, which will be available with the next generation Qualcomm Snapdragon 835 processor. What's new with Quick Charge 4? It charges faster of course. But it's not just faster, it's designed to be more efficient and run cooler than prior generations. Compared to Quick Charge 3.0, Quick Charge 4 is up-to 20 percent faster, or 30 percent more efficient, while charging up to 5° C cooler.
But what does that mean for using your smartphone in the real world? To give you a better sense of this, we've adopted a new measurement that helps sum it up simply. We call it 5 for 5, as in 5 minutes of charging can get you 5 hours or more of battery life. Think of all the times you only had five minutes to charge, but that didn't give your phone enough juice to get to the next charge. Five extra hours of battery life can get you there and further. Have more time? Quick Charge 4 is engineered to charge a typical smartphone from zero to 50 percent in about 15 minutes or less.
Fast charging is consistently one of the most looked for features in a new smartphone. In fact, a study conducted this year by market research firm Sino-MR found that fast charging influences 60 percent of users when buying their next smartphone. A similar global study by Qualcomm Technologies confirmed this number, and also found that over 25 percent of consumers think it takes too long to charge up today. Qualcomm Quick Charge is specifically engineered to solve this.
Only a few notable handsets include the Snapdragon 835 chip, including Samsung's Galaxy S8 and S8 Plus, Sony's Xperia XZ Premium, Xiaomi's Mi 6 and HTC's U11. Further, Qualcomm's list of Quick Charge-enabled models shows no devices with the 4th generation charging technology yet. This scarcity could mean that the new 4+ is more likely a replacement for the QC4 in upcoming smartphones, rather than a sequel.
#Search Tag
Quick charging, Quick charging history,Quick charging Supported device, Quick charge 1.0, Quick charge 2.0, Quick charge 3.0, Quick charge 4.0, Qualcomm Quick charging
Don't Forget to subscribe our Blog via Email, Like and share with Others if you have any issue or query then put your comments here.
if you want more tips& trick Related with redmi/Xiaomi  and other android phone related videos just goto our Youtube Channel 
Thanks friends keep visiting for more tips and trick related with Xiaomi/Redmi phones.